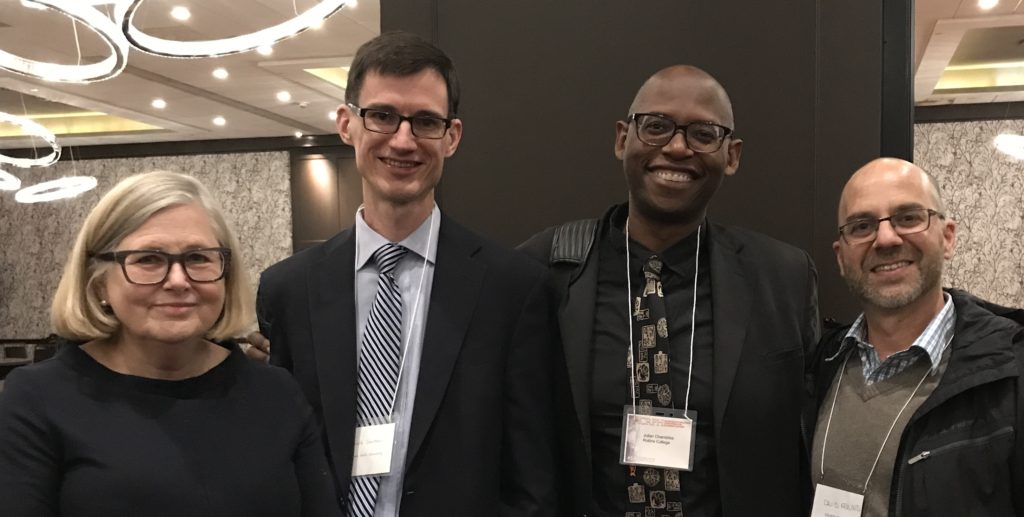 Thank you to everyone for an outstanding 2017 SACRPH Conference. See you again in 2019!

SACRPH held its 17th National Conference on Planning History in Cleveland, Ohio, on October 26-29, 2017. The Society wishes to thank all involved — from organizers to attendees — for making this event possible. We especially thank those who took on leadership roles, including those members pictured above (l-r): Margaret Crawford (now Past-President), J. Mark Souther (Local Arrangements Committee C0-chair), and Program Committee Co-chairs Julian Chambliss and David Freund. Local Arrangements Committee Co-chair Stephanie Ryberg-Webster is not pictured.
In case you could not make it to Cleveland, please check out the conference webpage for more info, including a copy of the program and details on tours (with some online content that can still be enjoyed, even after the conference).
The conference also marked changes in the Society's leadership. We welcome D. Bradford Hunt as SACRPH's next President, Nancy Kwak as President-Elect, and several new board members: Willow Lung-Amam, Angel Nieves, Stephanie Ryberg-Webster, J. Mark Souther, and Sanjeev Vidyarthi.
At the Saturday night reception, we announced the winners of the 2017 SACRPH awards. Please see the Awards page for further info.
The Society for American City and Regional Planning History (SACRPH) was founded in 1986. The organization promotes scholarship on the planning of cities and metropolitan regions over time, and bridges the gap between the study of cities and the practice of urban planning.
Please contact the Webmaster with any questions or suggestions.
Facebook Posts

DEADLINE FEB. 28!

Anthony Sutcliffe Dissertation Award

IPHS has created an award in honour of Anthony Sutcliffe (founding member of IPHS and Planning Perspectives). The award recognizes the best dissertation in the field of planning history written in English and completed during the two years preceding the conference. There is no restriction on topic, but submissions that most directly and innovatively address the internationalism of the modern planning movement in line with much of Sutcliffe's work are especially welcome.

The prize was awarded first time at the July 2014 conference of the IPHS in St. Augustine, Florida, USA. The prize was awarded to Ammon, Francesca Russello (2012) Culture of Clearance: Waging War on the Landscape in Post-war America. Yale University.

The second time it was called the prize at the July 2016 Conference of the IPHS in Delft, Netherlands. The prize was awarded to Gonick, Sophie (2015) At the Margins of Europe: Homeownership, Inclusion, and Protest in Contemporary Madrid. University of California, Berkeley.

Doctoral dissertations completed during 2016 and 2017 are eligible. Self-nominations or nominations from dissertation advisors (on behalf of their students) are welcomed. The award winner will receive free conference registration for the 18 IPHS Conference in Yokohama and a $ 300 prize. All submissions must include the dissertation in single file PDF format, a brief biography of the student with full contact details, identification of the main academic advisor(s) also with contact details, and a letter of affirmation by the dissertation advisor (or some other official university documentation) that the dissertation was completed and successfully passed/defended in the eligibility period.

Submissions deadline is February 28, 2018. Please submit your nomination to: jlsainzg@ana.uva.es ... See MoreSee Less