PAST SACRPH EVENTS
Virtual Roundtable: Teaching Urban, Planning, and Architectural History in a Professional School
Monday, May 8, 2023, 12:00 – 1:30 p.m. EDT, on Zoom
Historians of cities and the built environment are often trained, and can frequently be found teaching in, humanities departments such as history or art history. Equally often, however, they teach students pursuing a range of professional degrees—from city planning to architecture, public policy, education, and public health (among others). In this roundtable, a range of scholars who teach history in professional schools will reflect upon their experiences. In particular, they will consider the routes to arriving at such faculty positions, pedagogical decisions they have made in the classroom, the impact of a professional school setting upon their own research, and take-aways beyond the professional school classroom alone. Please join us if you are interested in learning more and joining the conversation!
Speakers:
Merlin Chowkwanyun, Mailman School of Public Health, Columbia University
Claire Dunning, School of Public Policy, University of Maryland
Ansley Erickson, Teachers College, Columbia University
Matthew Lasner, Architecture Division, California College of the Arts
Katie Marages, College of Environment + Design, University of Georgia
Moderator:
Francesca Russello Ammon, Weitzman School of Design, University of Pennsylvania
---
May 7, 2021, 1:00 p.m. EST
Akira Drake Rodriguez, University of Pennsylvania
Diverging Space for Deviants:The Politics of Atlanta's Public Housing (University of Georgia Press, 2021)
and
Steven Moga, Smith College
Urban Lowlands: A History of Neighborhoods, Poverty, and Planning (University of Chicago Press, 2020)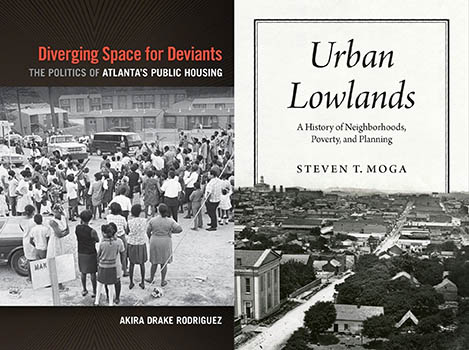 ---
May 21, 2021, 1:00 p.m. EST
Mariana Mogilevich, Urban Omnibus, author of The Invention of Public Space: Designing for Inclusion in Lindsay's New York (University of Minnesota Press, 2020)
and
Peter L'Official, Bard College, author of Urban Legends: The South Bronx in Representation and Ruin (Harvard University Press, 2020)
Moderated by Brian Goldstein, Swarthmore College
---
May 28, 2021, 1:00 p.m. EST
Rebecca Marchiel, University of Mississippi, author of After Redlining: The Urban Reinvestment Movement in the Era of Financial Deregulation (University of Chicago Press, 2020)
and
Paige Glotzer, University of Wisconsin, Madison, author of How the Suburbs Were Segregated: Developers and the Business of Exclusionary Housing, 1890-1960 (Columbia University Press, 2020)
Moderated by Pedro Regalado, Society of Fellows at Harvard University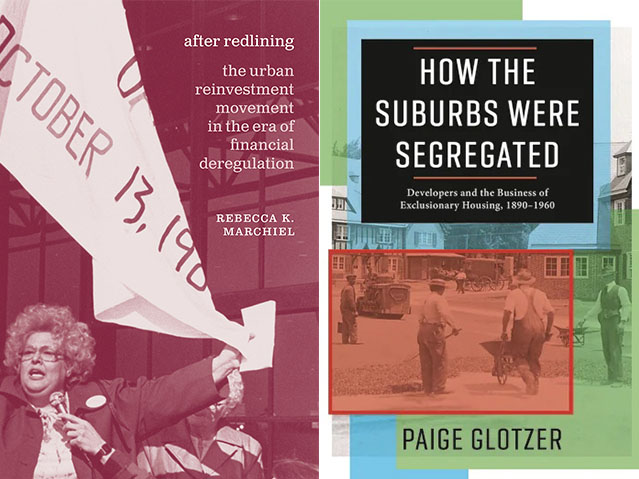 ---
---
Special thanks to Aaron Shkuda, Brian Goldstein, Francesca Ammon, and Gabrielle Esperdy for organizing these talks.